Water Importation Independent Review Panel
Project to Evaluate Water Importation Concepts for Long-term Salton Sea Restoration
Description:
The Salton Sea Management Program (SSMP) is establishing an Independent Review Panel (Panel) to review concepts for water importation to the Salton Sea for its long-term restoration.  SSMP has contracted the University of California, Santa Cruz (UCSC) to establish the Panel and provide research and analytical support.  UCSC has contracted Kennedy Jenks Consulting and other specialty subcontractors to serve as a support team to an Independent Review Panel to provide research and analysis (Fig.1).
The Independent Review Panel
The Independent Review Panel will be led by Panel Chair, Dr. Rominder Suri. Dr. Suri is Professor and Chair of the Department of Civil and Environmental Engineering at Temple University, and founding director of Temple University's NSF-funded Water, Environment, and Technology (WET) Center.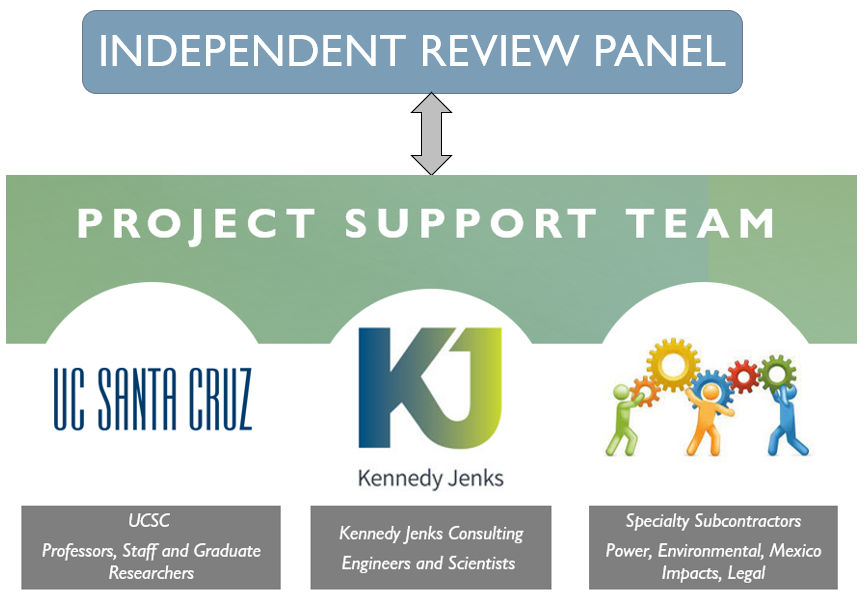 Figure 1: Support Team for Independent Review Panel
The Panel will include expertise across the spectrum of engineering, environment, law, regulation, public engagement, and quantitative analysis.
The Panel will review the 11 water importation concepts submitted to the state in 2018, and will rank feasible projects based upon defined criteria and technical analysis. Part of the review process entails a Screening Report-Out, Feasibility Report-Out, and Summary Report (Fig.2). The Summary Report and final deliverables will include the findings of the study and a recommendation to the State of California.

Figure 2: Three Products of the Panel
Timeline: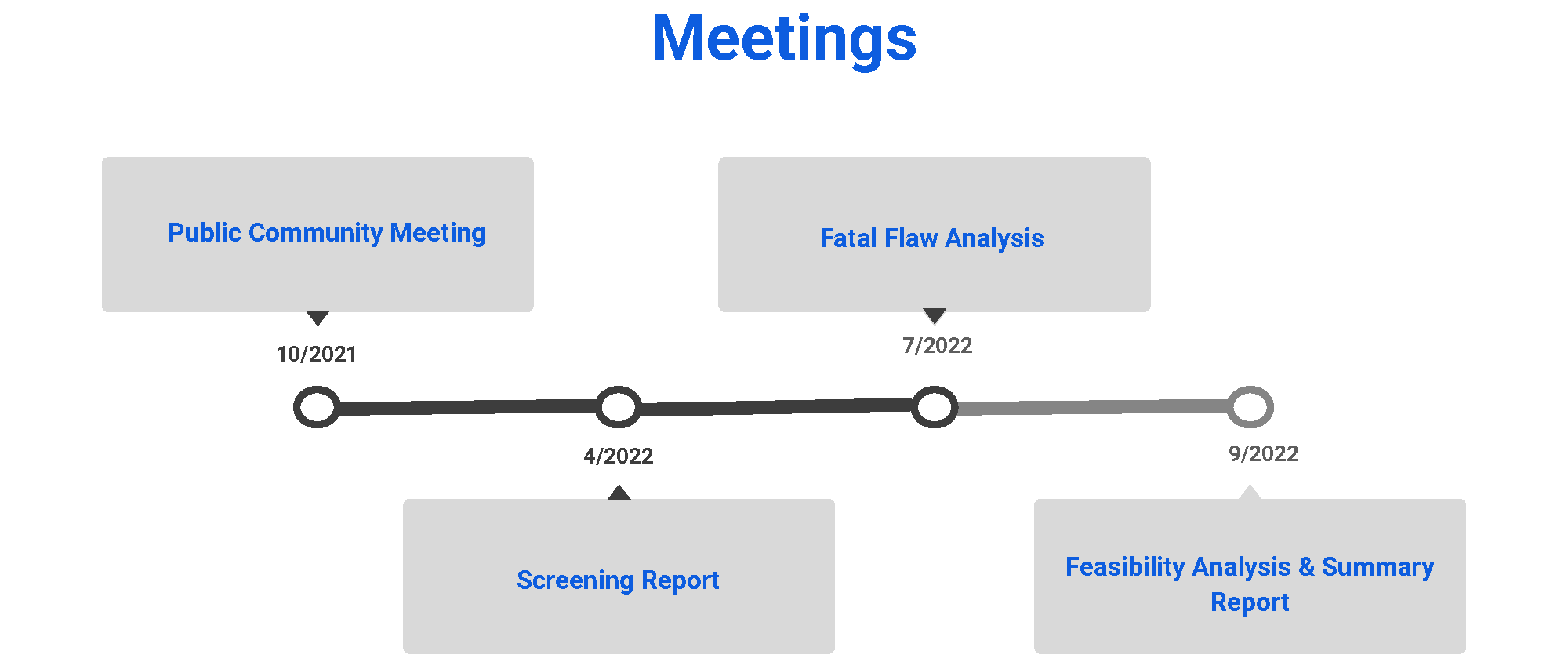 Public Meeting in the Salton Sea Region
The Independent Review Panel for Salton Sea water importation concepts seeks to gather all the information it can about water importation as a long-term strategy to restore and manage the Salton Sea. The Panel invites you to present at an online public meeting to be held: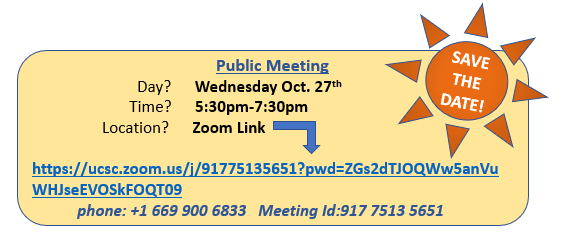 It seeks input from you individually and from any interested groups or organizations. The Public Meeting will begin with a brief introduction to the Panel's charge, process, and timeline, after which the floor will be open to your comments.
Contact Info:
For any questions or comments you may have to the Independent Review Panel and their Support Team, you can contact them using this email: sslt-eval-input@ucsc.edu
If you submitted a response to the 2017 Request for Information, you can contact the Independent Review Panel and their Support Team using this email: pi-link-sslt-eval@ucsc.edu.
News:  Independent Review Panel Issues Request for Information/Updates
Prof. Rominder Suri, Chair of the Independent Review Panel, is issuing a new Request for Information with accompanying spreadsheet.  It is similar in format to the RFI issued by the state in 2017.  The Panel is inviting (1) any new concepts for water importation that were not submitted in the previous Request to be submitted now, and (2) submission of any updates or elaborations from the eleven teams that previously submitted concepts.  The Panel is also inviting the original teams and any new teams to make brief oral presentations of their concepts.  The optional presentations will provide highlights and clarification, and allow the presenters to field questions from the Panel.  The due date for the new call is October 12.  Please email all materials to Azucena Beltran at azrbeltr@ucsc.edu by October 12, 2021.
Panelist Biographies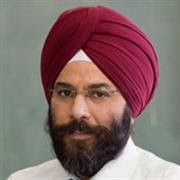 Dr. Rominder Suri is Professor and Chair of the Department of Civil and Environmental Engineering at Temple University, and founding director of Water and Environmental Technology (WET) Center at Temple University. Dr Suri has led research efforts around water, technology and engineering and is a recognized expert in water quality and purification. Specifically, Dr. Suri has studied extensively traditional and novel water treatment processes and pollutants, and has published numerous research papers. Dr. Suri also has extensive experience working with a wide range of stakeholders and facilitating collaborative processes from his academic tenure as well as his work with the WET Center. As the Chair of the independent review panel, his duties will include the selection of panel nominees, leading the drafting of reports, setting agendas for and managing all meetings, and supervising all votes and deliberations by the panel. We look forward to having him lead a robust, science-based process as Chair of the Independent Review Panel.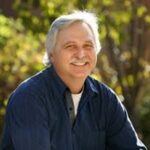 Robert Raucher, Ph.D., Director of Water Economics and Planning, has had a distinguished career as a consultant on environmental and water economics, focusing on benefit-cost analysis. His focus has been on systematic approaches for including the full range of Triple Bottom Line (TBL) benefits and costs of water sector projects, to better reflect ecosystem, public health, recreational, climate risk, and other impacts beyond the direct financial costs and benefits.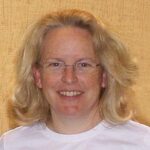 Professor Julie Lockwood is an internationally recognized expert in ecology and Chair of the Department of Ecology, Evolution, and Natural Resources at Rutgers University. She is an elected Fellow of the Ecological Society of America (ESA), which is a recognition of the many ways in which its members contribute to ecological research and discovery, communication, education and pedagogy, and management and policy. Professor Lockwood has contributed to the United Nationals Program on Biodiversity and Ecosystem Services, and several national programs in biodiversity conservation.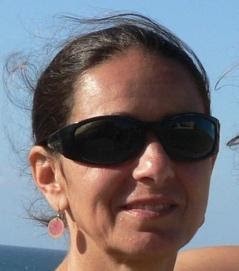 Dr. Adina Paytan is a Research Scientist at the Institute of Marine Sciences at University of California, Santa Cruz. She obtained her B.S. double major in Biology and Geology from the Hebrew University in Jerusalem and a M.S. degree in science education at the Weizmann Institute of Science in Rehovot. In 1996 Dr. Paytan got her Ph.D. in oceanography from the Scrips Institute of Oceanography in San Diego and her research lays in the fields of biogeochemistry, chemical oceanography, and paleoceanography. An overarching goal of her research is to link changes observed in the earth and ocean systems to global changes in climate and tectonics with an emphasis on human impacts.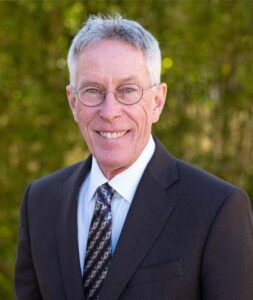 Professor Robert Glennon is the Regents Professor Emeritus and Morris K. Udall Professor of Law and Public Policy Emeritus at the University of Arizona's James E. Rogers College of Law. He received a J.D. from Boston College Law School and an M.A. and Ph.D. in American History from Brandeis University. Professor Robert Glennon is one of the nation's preeminent experts on water policy and law. The recipient of two National Science Foundation grants, Glennon serves as an advisor to governments, corporations, think tanks, law firms, and NGOs looking to solve serious challenges around water sustainability and planning. Glennon is the author of Unquenchable: America's Water Crisis and What To Do About It, and Water Follies: Groundwater Pumping and the Fate of America's Fresh Waters. In 2014, Glennon and two co-authors wrote a report for the Hamilton Project at the Brookings Institution. Shopping for Water: How the Market Can Mitigate Water Shortages in the American West explores solutions to broken federal and state laws that are contributing to worsening water shortages in California and other Western states. Glennon's writings have appeared in the New York Times, Los Angeles Times, Washington Post, and Wall Street Journal.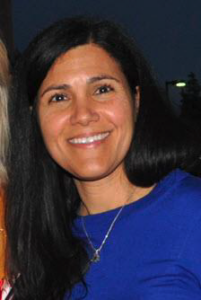 Ms. Sharon D. Kenny is a founder of KLVN International LLC consulting firm.  She holds a bachelor's degree in Geology from the University of Puerto Rico at Mayagüez; and master's degrees in Geochemistry and Civil Engineering from the University of Florida, and the University of Colorado at Boulder, respectively. Sharon is an expert in hazardous waste remediation and on the impacts of large-scale industrial activities on land and water.  She has extensive experience in the areas of risk assessment, cost-benefit analysis, and project management.  For the last several years Sharon has led teams in the applications of geospatial modelling and analysis, as an expert and invited instructor.  Although currently employed with USEPA to provide quality management reviews and conduct quantitative analysis of data related to environmental releases in the mid-Atlantic region, she is undertaking this work in her capacity as a principal with KLVN International.
---
Proyecto para evaluar conceptos de importación de agua para la restauración del Salton Sea a largo plazo
Descripción:
El Programa de Manejo de Salton Sea (SSMP) está estableciendo un Panel de Revisión Independiente (Panel) para revisar los conceptos para la importación de agua al Salton Sea para su restauración a largo plazo. SSMP ha contratado a la Universidad de California, Santa Cruz (UCSC) para establecer el Panel y proporcionar apoyo analítico y de investigación. UCSC ha contratado a Consultantes de Kennedy Jenks y otros subcontratistas especializados para que sirvan como equipo de apoyo a un Panel de revisión independiente para proporcionar investigación y análisis.
El Panel de Revisión Independiente
El Panel de Revisión Independiente estará dirigido por el Presidente del Panel, Dr. Rominder Suri. El Dr. Suri es profesor y presidente del Departamento de Ingeniería Civil y Ambiental de la Universidad de Temple, y director fundador del Centro de Agua, Medio Ambiente y Tecnología (WET) de la Universidad de Temple, financiado por la NSF.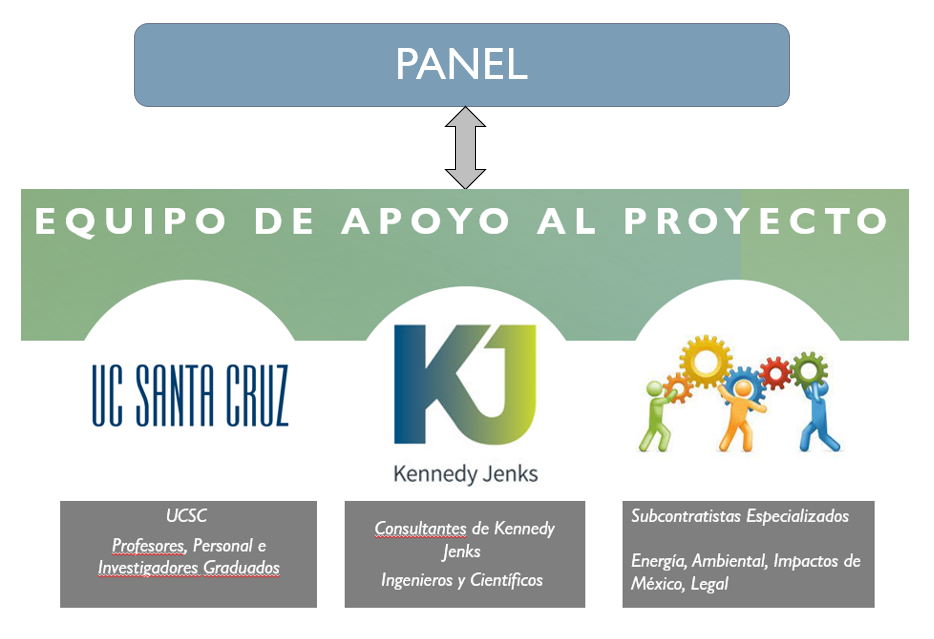 Figura 1: Equipo de Soporte para el Panel
El Panel, que se anunciará cuando esté completamente compuesto, incluirá experiencia en todo el espectro de la ingeniería, el medio ambiente, la ley, la regulación, la participación pública y el análisis cuantitativo.
El Panel revisará los 11 conceptos de importación de agua presentados al estado en el 2018, y clasificará los proyectos factibles basados en criterios definidos y análisis técnicos. Parte del proceso de revisión implica un informe de evaluación, un informe de factibilidad y un Reporte Resumido (Fig. 2). El Informe resumido y los entregables finales incluirán los hallazgos del estudio y una recomendación al Estado de California.

Figura 2: Tres productos del panel
Línea de tiempo: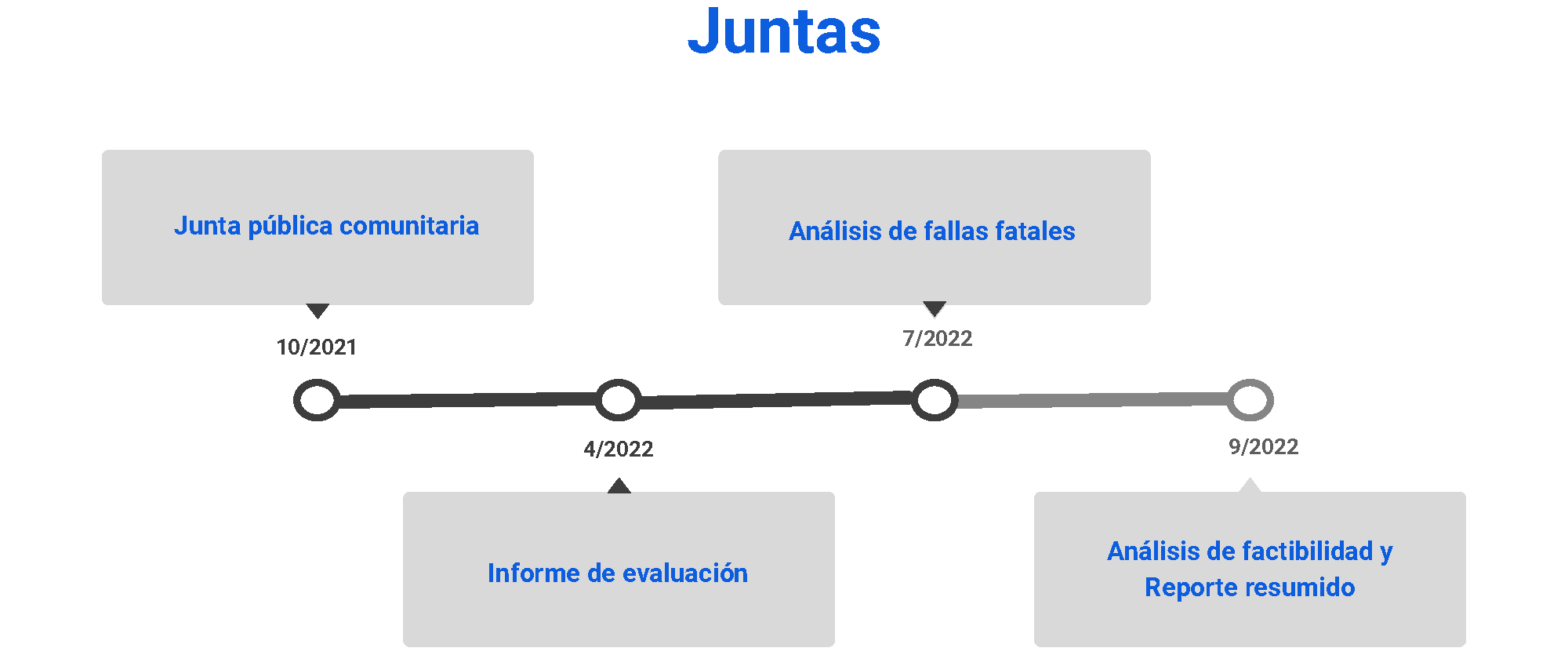 Reunión pública en la región del Salton Sea
El Panel de Revisión Independiente de los conceptos de importación de agua del Salton Sea busca recopilar toda la información posible sobre la importación de agua como una estrategia a largo plazo para restaurar y administrar el Salton Sea. El Panel lo invita a presentar en una reunión pública en línea que se llevará a cabo: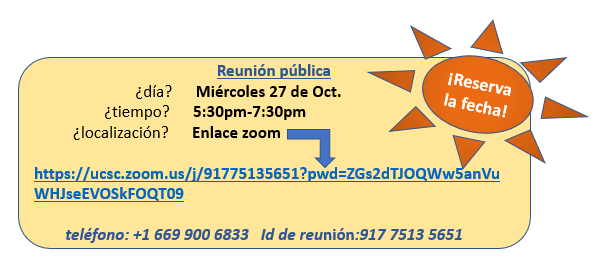 Se busca su opinión individualmente y de cualquier grupo u organización interesado. La Reunión Pública comenzará con una breve introducción a los cargos, el proceso y el cronograma del Panel, después de lo cual el piso estará abierto a sus comentarios.
Puede enviar preguntas y comentarios en cualquier momento a sslt-eval-input@ucsc.edu
Se proporcionará traducción simultánea.
Información de contacto:
Para cualquier pregunta o comentario que pueda tener al Panel de Revisión Independiente y su Equipo de Soporte, puede contactarlos usando este correo electrónico: pi-link-sslt-eval@ucsc.edu.
Si envió una respuesta a la Solicitud de Información de 2017-2018, puede comunicarse con el Panel de revisión independiente y su Equipo de soporte a través de este correo electrónico:link-sslt-eval@ucsc.edu
Noticias: El Panel de Revisión Independiente emite una Solicitud de Información/Actualizaciones
El Panel de Revisión Independiente está emitiendo una nueva Solicitud de Información (RFI) Tiene un formato similar al RFI emitido por el estado en 2017. El Panel está invitando a (1) cualquier concepto nuevo para la importación de agua que no se haya presentado en la Solicitud anterior para que se presente ahora, y (2) la submisión de cualquier actualización o elaboraciones de los once equipos que previamente enviaron sus conceptos. El Panel también está invitando a los equipos originales y a los equipos nuevos a realizar breves presentaciones orales de sus conceptos. Las presentaciones opcionales proporcionarán aspectos destacados y aclaraciones, y permitirán a los presentadores responder preguntas del Panel. La fecha límite para la nueva convocatoria es el 12 de Octubre. Porfavor envíe por correo electrónico todos los materiales a Azucena Beltrán a azrbeltr@ucsc.edu no mas tardar  del 12 de octubre del 2021.
Panelist Biographies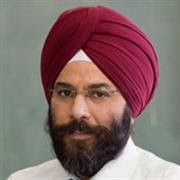 El Dr. Rominder Suri es profesor y presidente del Departamento de Ingeniería Civil y Ambiental de la Universidad de Temple, y director fundador del Centro de Tecnología Ambiental y del Agua (WET) de la Universidad de Temple. El Dr. Suri ha dirigido esfuerzos de investigación en torno al agua, la tecnología y la ingeniería y es un experto reconocido en la calidad y purificación del agua. Específicamente, el Dr. Suri ha estudiado ampliamente los procesos de tratamiento de agua y los contaminantes tradicionales y novedosos, y ha publicado numerosos artículos de investigación. El Dr. Suri también tiene una amplia experiencia trabajando con una variedad de partes interesadas y facilitando procesos de colaboración desde su mandato académico, así como su trabajo con el Centro WET. Como presidente del panel de revisión independiente, sus funciones incluirán la selección de los nominados del panel, dirigir la redacción de informes, establecer las agendas y gestionar todas las reuniones, y supervisar todos los votos y deliberaciones del panel. Esperamos que lidere un proceso sólido y basado en la ciencia como presidente del Panel de Revisión Independiente.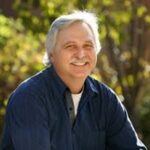 Robert Raucher, Ph.D., Director de Planificación y Economía del Agua, ha tenido una carrera distinguida como consultor en economía ambiental y del agua, enfocándose en el análisis de costo-beneficio. Se ha centrado en enfoques sistemáticos para incluir la gama completa de beneficios y costos de Triple Resultado (TBL) de los proyectos del sector del agua, para reflejar mejor el ecosistema, la salud pública, la recreación, el riesgo climático y otros impactos más allá de los costos y beneficios financieros directos.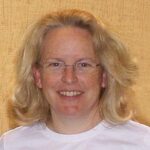 La profesora Julie Lockwood es una experta en ecología reconocida internacionalmente y presidenta del Departamento de Ecología, Evolución y Recursos Naturales de la Universidad de Rutgers. Es miembro electa de la Sociedad Ecológica de América (ESA), que es un reconocimiento a las muchas formas en que sus miembros contribuyen a la investigación y el descubrimiento ecológico, la comunicación, la educación y la pedagogía, y la gestión y las políticas. La profesora Lockwood ha contribuido al Programa de las Naciones Unidas sobre Biodiversidad y Servicios de los Ecosistemas y a varios programas nacionales sobre la conservación de la biodiversidad.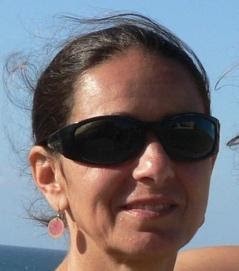 La Dra. Adina Paytan es investigadora científica en el Instituto de Ciencias Marinas de la Universidad de California, Santa Cruz. Obtuvo su B.S. doble especialización en Biología y Geología de la Universidad Hebrea de Jerusalén y un M.S. Licenciado en educación científica en el Instituto de Ciencias Weizmann en Rehovot. En 1996, la Dra. Paytan obtuvo su doctorado en oceanografía del Instituto Scrips de Oceanografía en San Diego y su investigación se encuentra en los campos de biogeoquímica, oceanografía química y paleoceanografía. Un objetivo general de su investigación es vincular los cambios observados en los sistemas terrestres y oceánicos con los cambios globales en el clima y la tectónica, con énfasis en los impactos humanos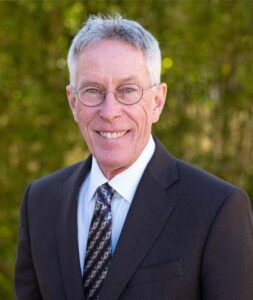 El profesor Robert Glennon es el profesor emérito de Regents y el profesor Morris K.Udall de
Emérito de Derecho y Políticas Públicas de la Facultad de Derecho James E. Rogers de la Universidad de Arizona. Recibió un J.D. de Boston College Law School y una maestría y un doctorado en Historia Americana de la Universidad de Brandeis. El profesor Robert Glennon es uno de los expertos más destacados del país en políticas y leyes del agua. Glennon, que recibió dos subvenciones de la Fundación Nacional de Ciencias, se desempeña como asesor de gobiernos, corporaciones, centros de estudios, bufetes de abogados y NGOs que buscan resolver serios desafíos en torno a la sostenibilidad y la planificación del agua. Glennon es el autor de "Insaciable: la crisis del agua en Estados Unidos y que hacer al respeto", y "Locuras del agua: bombeo de agua subterránea y el destino del agua fresca de los estados unidos". En 2014, Glennon y dos coautores escribieron un informe para el Proyecto Hamilton en la Institución de Brookings. "Compra de agua: cómo el mercado puede mitigar la escasez de agua en el oeste de Estados Unidos" explora soluciones a las leyes federales y estatales incumplidas que están contribuyendo a empeorar la escasez de agua en California y otros estados del oeste. Los escritos de Glennon han aparecido en el New York Times, Los Ángeles Times, Washington Post y Wall Street Journal.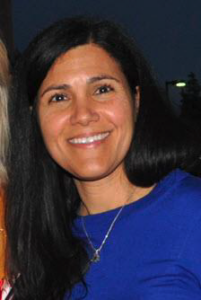 La Sra. Sharon D. Kenny es fundadora de la firma consultora KLVN International LLC. Tiene una licenciatura en Geología de la Universidad de Puerto Rico en Mayagüez; y maestrías en Geoquímica e Ingeniería Civil de la Universidad de Florida y la Universidad de Colorado en Boulder, respectivamente. Sharon es experta en la remediación de desechos peligrosos y en los impactos de las actividades industriales a gran escala en la tierra y el agua. Tiene una amplia experiencia en las áreas de evaluación de riesgos, análisis de costo-beneficio y gestión de proyectos. Durante los últimos años, Sharon ha liderado equipos en las aplicaciones de modelado y análisis geoespacial, como experta e instructora invitada. Aunque actualmente trabaja con USEPA para proporcionar revisiones de gestión de calidad y realizar análisis cuantitativos de datos relacionados con las emisiones ambientales en la región del Atlántico medio, está realizando este trabajo en su calidad de directora de KLVN International.