Connect With Us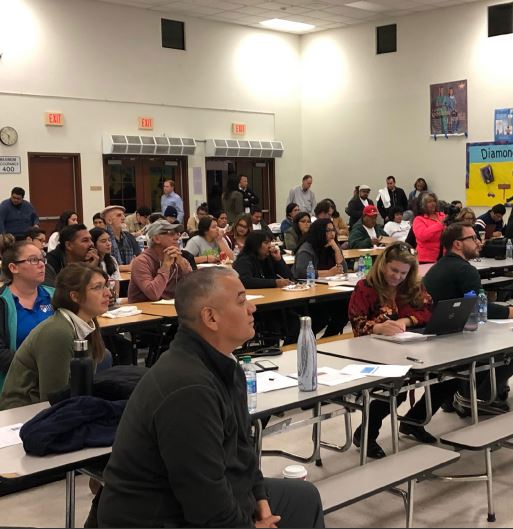 The Salton Sea Management Program team is committed to engaging local communities in the planning and implementing of the program.
The team continues to place a strong focus on engagement activities. The team continues to refine the draft Community Engagement Plan that will guide the state's long-term approach to engaging with the Salton Sea community, while incorporating the Engagement Committee and stakeholder input. The Engagement Committee serves as the hub for implementing the plan.
With these refinements in mind, the team began work on updating the draft Engagement Committee charter. The goal of the charter is to develop and actively maintain an engagement program that enables consistent two-way communication, creates opportunities for community members to share concerns and provide input, and ultimately contributes to delivery of projects that improve conditions for communities around the Salton Sea.
Please refer to the calendar below for upcoming meetings and opportunities to engage and provide input.
The state team continues to share news and updates via an e-newsletter.
Sign up here to receive the Salton Sea Management Program Update for the latest on project delivery, upcoming meetings, opportunities to provide input and more.
Apr
3
Mon
SSMP Community Engagement Committee Meeting – Virtual – April 3, 2023
Apr 3 @ 11:00 am – 1:00 pm
The SSMP Community Engagement Committee will meet on April 3 at 11:00 a.m. for a virtual meeting on Zoom.
Spanish Interpretation will be available. Habrá interpretación en español.
Please click the link below to join the webinar: https://us02web.zoom.us/j/88412977625
Or dial: +16694449171
Webinar ID: 884 1297 7625
Apr
20
Thu
SSMP Community Workshop – April 20, 2023

@ Torres Martinez Desert Cahuilla Indians Tameka Gym
Apr 20 @ 5:30 pm – 7:30 pm
The SSMP team invites you to participate in its next SSMP Community Workshop on April 20 at 5:30 p.m. Attendees may participate in person or virtually.
Please join us in person at Torres Martinez Desert Cahuilla Indians Tameka Gym, 66725 Martinez Road, Thermal, CA 92274. Doors open at 5:00 p.m.
You may also participate virtually by clicking here: http://bit.lySaltonSeaWorkshop  or by dialing (305) 226-1968.