Upcoming SSMP Engagement Opportunities
Share Your Feedback on the
Draft Salton Sea Long-Range Plan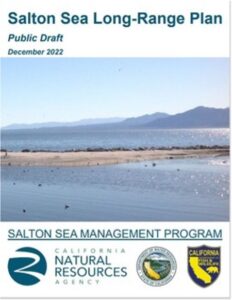 The Salton Sea Management Program has released the Draft Salton Sea Long-Range Plan for public review. This draft plan was developed with support from Tribal leadership, community-based organizations, and interested parties. The proposed concepts within the plan intend to protect or improve air quality, water quality, and wildlife habitat to reduce health and environmental consequences anticipated from the long-term recession of the Salton Sea.
Please visit SaltonSea.ca.gov to view the draft plan and provide your feedback. A Spanish version of this draft plan can also be found here.
Comments may be sent via email to SaltonSeaLRP@resources.ca.gov, or via regular mail to the California Natural Resources Agency, Attn: Salton Sea Long-Range Plan Review, 715 P Street, 20th Floor Sacramento, CA 95814. Please send your comments on or before March 17 at 11:59 p.m. PST.
Following the receipt of comments on March 17, the long-range planning effort will become part of a feasibility study led by the U.S. Army Corps of Engineers.  SSMP will partner with the U.S. Army Corps of Engineers and Salton Sea Authority to undertake this feasibility study. The official title of the feasibility study is: Imperial Streams Salton Sea and Tributaries Feasibility Study. Additional public input opportunities will be available during this process to shape and enhance the plan for future actions at the Sea.
Thank you for supporting the future of the Salton Sea!
SSMP Community Workshop set for March 1
Join the SSMP Team on a virtual community workshop on March 1, at 5:30 p.m. During the workshop, the team will provide program updates and seek your feedback to help continue shaping the future of the Sea. Spanish interpretation will be available. Habrá interpretación al español.
Meeting details, Zoom link, materials, and other documents are forthcoming and will be uploaded to the SSMP website as they become available. For questions or comments, please contact: Cnra-saltonsea@resources.ca.gov.
Follow Us on Social