SSMP Project Update
Work Continues at Vegetation Enhancement Projects Around the Salton Sea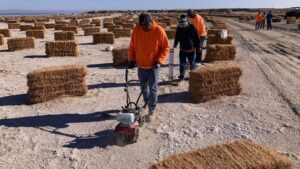 A mixture of native plant seed was placed between the rows of grass bales that were placed during phase-1 of the Vegetation Enhancement Projects at Clubhouse and West Bombay Beach sites.
The SSMP is implementing the vegetation enhancement projects in partnership with the U.S. Bureau of Reclamation near communities around the Salton Sea. The projects cover approximately 1,700 acres and are located near the communities of Salton City and Bombay Beach. The projects aim to establish and enhance native vegetation on the exposed lakebed to reduce wind-blown dust and improve habitat value for desert wildlife. Native plants being established at the project sites include iodine bush, big saltbush, salt grass, honey mesquite, palo verde, among others still being considered.
Phase 1 of the Vegetation Enhancement Projects consists of grading, grass bale placement, and site modifications in the project areas. Grass bales will help protect plants and vegetation that will be coming into the projects as part of the phase 2, which includes planting and/or seeding and irrigation. Until sites get planted, the bales create a form engineered surface roughening for interim dust suppression, important to the nearby communities.
The SSMP team was successful in getting approximately 290 acres seeded within the existing rows of grass bales at Clubhouse and West Bombay Beach sites. This work was done as part of the second phase of these projects during the months of November and December. At the request of residents at our public meetings, we will be adding native trees to complement our native shrub mix throughout all sites, where feasible.
A total of 1,085 acres of vegetation enhancement projects began implementation in 2022. The team is working with local nurseries to grow out tens of thousands of plants for placement during this winter/spring season. Seeding and planting will continue over the next couple of months.