SSMP Project Updates — Recent Rain Events Send Stormwater into Vegetation Enhancement Projects
Haga click aquí para leer este mensaje en español
September 2022
Bringing you timely and concise updates on the Salton Sea Management Program
A series of rain events, including the remnants of Hurricane Kay, sent water into three vegetation enhancement project sites along the shoreline of the Salton Sea. Design features aimed at spreading stormwater over the project sites worked effectively, and damage was minimal.
Stormwater spreading features embedded in the projects help naturally irrigate the vegetation and are designed to contribute to the success of the projects.The SSMP is implementing the vegetation enhancement projects in partnership with the U.S. Bureau of Reclamation near communities around the Salton Sea. The projects cover approximately 1,700 acres and are located near the communities of Salton City and Bombay Beach. The projects aim to establish and enhance native vegetation on the exposed lakebed to reduce wind-blown dust and improve habitat value for desert wildlife. Planting and seeding are scheduled to restart this fall as the weather cools and will continue until vegetation communities are established across all three sites.
---
SSMP Team
Assistant Secretary for Salton Sea Policy Arturo Delgado Retires from State Service
Arturo Delgado, Assistant Secretary for Salton Sea Policy at the California Natural Resources Agency (CNRA), has retired from state service as of August 31. Since his appointment by Governor Gavin Newsom nearly three years ago, Delgado led the SSMP team to achieve significant progress at the Salton Sea including: breaking ground on the largest restoration project in the Sea's history; starting important vegetation management work on exposed lakebed; and increasing organizational capacity to meet the growing demands for restoration projects at the Salton Sea.
Delgado served as a key advisor to the Secretary of Natural Resources on Salton Sea policy and led the team charged with ecosystem restoration and addressing air quality and ecological threats at the Salton Sea. Before his role as the Assistant Secretary for Salton Sea policy at CNRA, he served as Salton Sea program manager at the California Department of Fish and Wildlife (CDFW). From 2010 to 2018, he held several leadership positions at the U.S. Forest Service (USFS), including a district ranger at the San Bernardino National Forest. Before working at the USFS, Delgado held several positions at CDFW.
"Arturo has been integral to advancing the state's commitments at the Salton Sea," California Natural Resources Secretary Wade Crowfoot said. "His knowledge, leadership, and deep commitment to making progress helped us break through delays and begin the important work of delivering projects on the ground. We owe Arturo a debt of gratitude for his hard work and vision, and wish him the best as he transitions into retirement."
The SSMP team remains focused on continued progress while Delgado's successor is selected. The SSMP team can be reached on the CNRA Salton Sea contact email:
cnra-saltonsea@resources.ca.gov.
---
SSMP Team Employee Spotlight
The California Natural Resources Agency, the California Department of Water Resources (DWR), and the California Department of Fish and Wildlife are implementing the Salton Sea Management Program to address air quality and ecological threats at the Salton Sea. These agencies are collectively known as the SSMP team.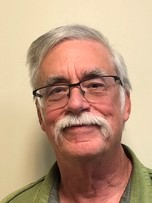 In this edition, we are putting Charley Land in the spotlight to share more about his important work as part of the SSMP Team.
Land is a supervising Senior Environmental Scientist with the SSMP at CDFW, where he has worked out of the Bermuda Dunes office in Riverside County for the past 10 years. Prior to being promoted to his current role, Land served as regulatory and scientific lead with the Salton Sea Management Program.
Hi Charley, can you tell us a bit more about your role at the SSMP?
I supervise the CDFW Salton Sea Program Team. Our team collaborates with DWR and CNRA in the implementation of the Salton Sea Management Program through permitting, contributing to project design, performing biological surveys, and providing expertise within our field. My role includes consultation, coordination, scheduling, and logistics, and I am both honored and pleased to be part of such an excellent multidisciplinary SSMP team.
What part of your job do you enjoy the most?
Project design. To be able to put over three decades of field experience into the design of new habitat restoration projects is a very rewarding experience.
What inspired you to learn more about geology and wildlife?
I was always scientifically inclined and motivated to work with natural resources. I fell in love with the desert about a quarter century ago. The desert provides clarity about the importance of water. Here in the desert, where water is a very limited resource, you can truly see how life revolves around the availability of water.
What is your vision for the future of the Salton Sea?
I would be lying if I said there will not be challenges ahead. However, I do believe we can optimize our use of the available resources by working collaboratively with our partner entities, the communities of the Salton Sea, and academia. Together we can make a difference, but the Salton Sea of the future may not look the same as the Salton Sea of the past. We need to be innovative and expand our understanding of this changing ecosystem to let the nature itself show us a path forward.
---
Join the SSMP Team!
The Department of Water Resources is seeking applicants for an Associate Governmental Program Analyst position with the Salton Sea Management Program.
The final filing date is September 26. The job announcement may be found at https://www.calcareers.ca.gov/CalHrPublic/Jobs/JobPosting.aspx?JobControlId=326086
DWR's Salton Sea Program is looking for a forward thinking, energetic, collaborative, dedicated, self-initiating and friendly person to work with the Salton Sea Management Program to track, report, process and control expenditures, encumbrances and budgets within the Department's Software and Tracking Systems.  The position will be working closely with program managers on budget planning and tracking and grant contract development and invoicing for the Salton Sea Program. The position requires collaboration with other administrative staff in the Division or Department.
If you are a self-motivated, service-minded, and a hardworking professional interested in joining a dynamic team that is dedicated to helping the Salton Sea Program apply today!
SSMP Jobs & Exams are updated regularly on CalCareers.
---
Upcoming SSMP Engagement Opportunities and Events
Independent Review Panel to Release Feasibility Analysis and Summary Report Later this Month
The Independent Review Panel assessing the feasibility of water importation into the Salton Sea will present its feasibility analysis and summary report at a meeting on September 30.
The feasibility report provides a detailed analysis of the technical and economic feasibility of importation concepts. The summary report describes the overall review process, including the Panel's major findings, and recommendations. The meeting will be facilitated by the Panel's Support team and attended by Panel members. Spanish interpretation will be available. Habrá interpretación al español.
Salton Sea Independent Review Panel Public Meeting
Feasibility Report | Summary Report
Friday, September 30, at 5:30 p.m.
https://ucsc.zoom.us/j/93486540205?pwd=Zk1HWVFra0wzaWdUaUxVL25wcVpvZz09#success
If you have any questions, please send them to the public input channel
---
SSMP Long-Range Plan Committee to Meet on October 12
The Long-Range Plan Committee will meet on Wednesday, October 12, at 9:30 a.m. for a virtual meeting on Zoom to discuss updates and receive feedback on the development of the Long-Range Plan. Spanish interpretation will be available. Habrá interpretación al español.
SSMP Long-Range Plan Committee Meeting
Wednesday, October 12 at 9:30 a.m.
https://us02web.zoom.us/j/89578766476
Or join us by phone
Dial: 1 (669) 900 6833
Webinar ID: 895 7876 6476
Meeting materials and other documents will be uploaded to the SSMP website. For questions or comments, please contact: Cnra-saltonsea@resources.ca.gov.
Follow us on social!
#LatinoHeritageMonth is from Sept. 15 – Oct. 15. Join us for a Speaker Series event on October 3 to connect with and learn from Latinos in Environmental Stewardship.
@LatinoOutdoors, @CAStateParks, @CA_DWR, @ca_coastal.
Register now
https://ca-water-gov.zoom.us/webinar/register/WN_iWu4E5pgSNOFXKl4OLpL6w
---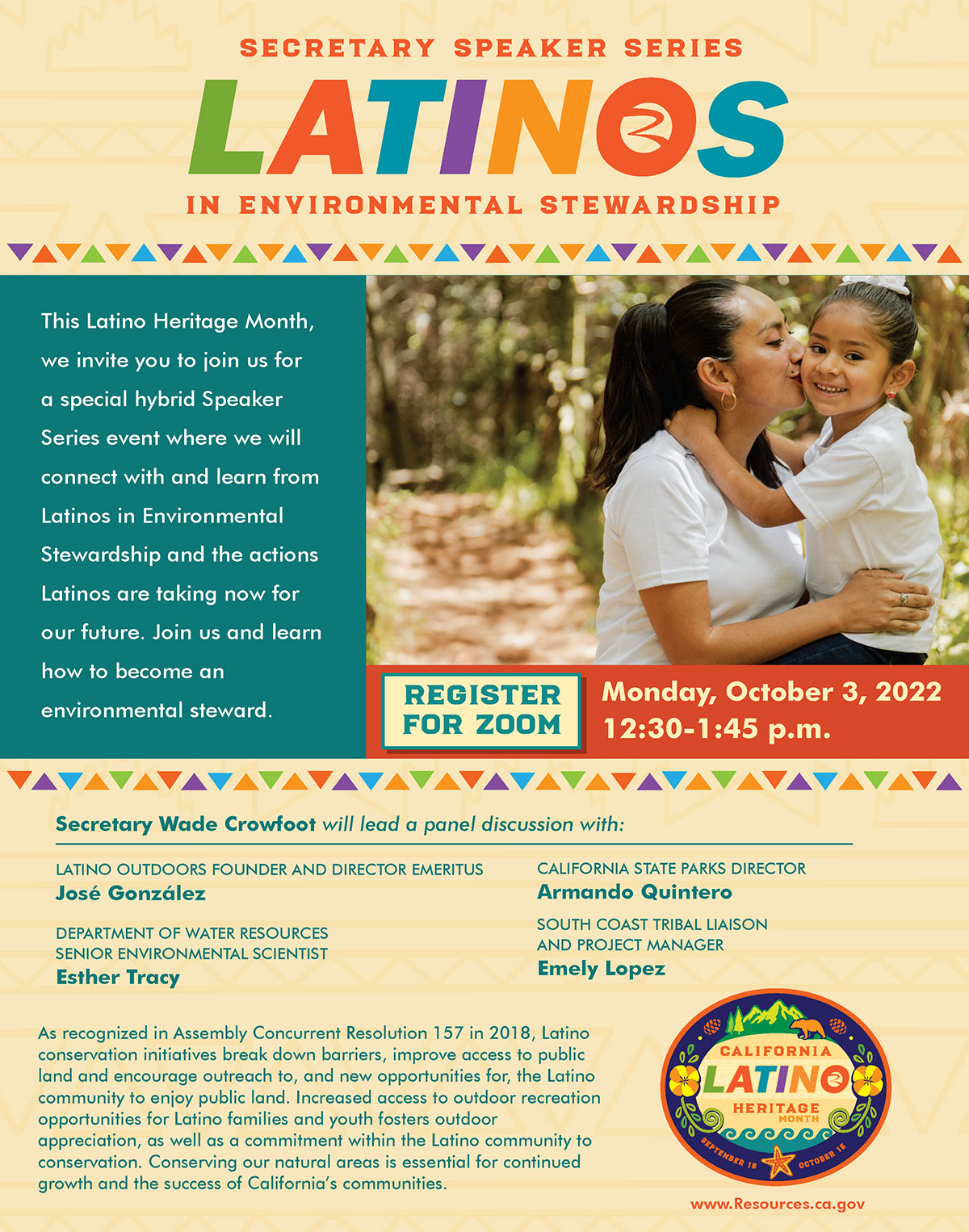 ---
The Salton Sea e-Newsletter Update is issued the second week of each month to deliver up-to-date information on the Salton Sea Management Program. For questions or comments, please contact: Cnra-saltonsea@resources.ca.gov.
To sign up to receive Salton Sea Community Updates, please click here.
California Natural Resources Agency
715 P Street
Sacramento, CA 95814