Projects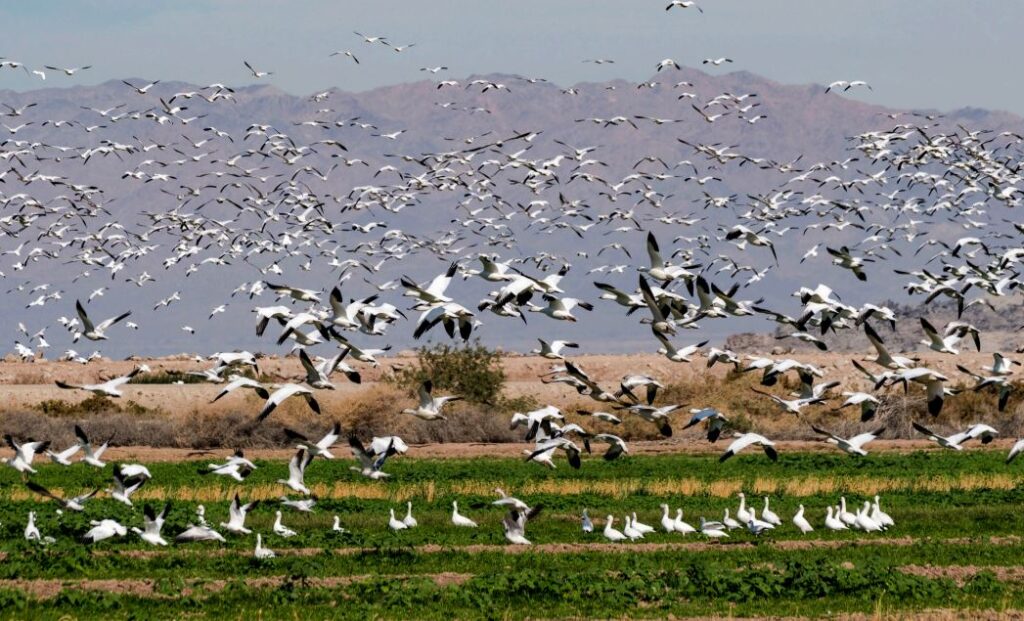 State agencies are focused on implementing projects as part of the Salton Sea Management Program's 10-year plan. The plan calls for construction of dust suppression and habitat projects on 30,000 acres of exposed lakebed and areas that will be exposed by 2028.
Aided by input from community members, local leaders and interested groups, state agencies have built out a schedule that will see construction of projects on up to 3,800 acres of some of the most emissive lakebed in 2020. An additional 4,400 acres are expected to be constructed by 2022.
The first SSMP project – the 112-acre Bruchard Road Dust Suppression Project – was completed in January 2020. The first major habitat project – the 3,770-acre Species Conservation Habitat (SCH) project – is on track to break ground by fall 2020.
Simultaneously, the SSMP team is developing a programmatic approach to land access, permitting and other activities that will increase the pace and scale of work in 2020 and beyond. In addition, in spring 2020 the team will launch the public phase of the federally required environmental planning process that will complete permitting for the full 30,000 acres of projects identified in the Phase 1: 10-Year Plan.
With this work now underway and a detailed timeline identified to deliver projects, state agencies continue to work with local, tribal, state and federal partners to implement SSMP projects that improve conditions at the sea for local communities as well as fish and wildlife.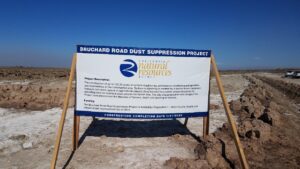 The state team worked with Imperial Irrigation District to complete the Bruchard Road Dust Suppression Project in January 2020. The 112-acre project, located near the mouth of the New River at the Salton Sea, is the first project completed under the SSMP and is designed to reduce fugitive dust emission from areas of lakebed that have been exposed due to dropping lake levels. The project also served to develop a stream-lined permitting approach that can be implemented at other sites to expedite projects around the sea.
The project used surface roughening – and erosion control practice – to reduce dust emissions. Surface roughening created 2- to 3-foot ridges and furrows perpendicular to the prevailing wind direction. This approach a) modifies the airflow and thus decreases wind velocity at the soil surface, and b) physically traps soil particles that enter the roughened area from upwind sources. Surface roughening was favored for this project because it is expected to provide quick, waterless, and effective dust control on the soil types present at the site.
The state is on track to begin construction in fall 2020 on the first major Salton Sea Management Project, the 3,770-acre Species Conservation Habitat (SCH) project at the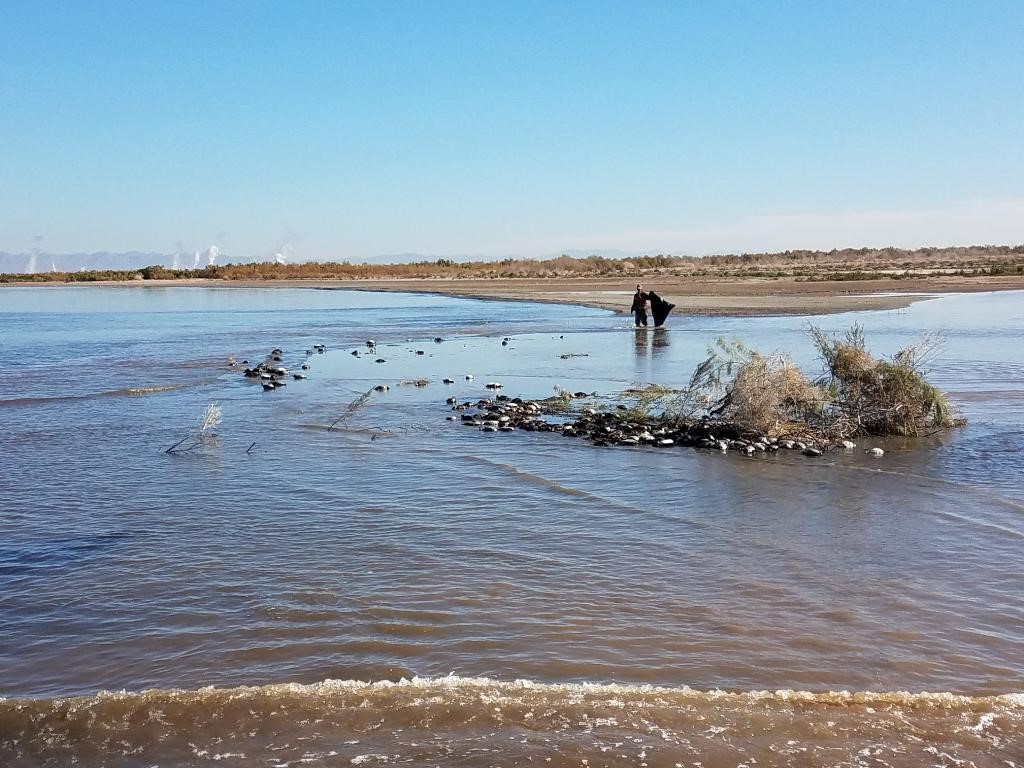 southern end of the Sea along the New River.
The Project will encompass an approximately 3,770-acre site of exposed lakebed located at the southern end of the Salton Sea, east and west of the New River. The SCH will create a series of ponds with islands and areas of varying water depths to serve as fish and bird habitat. The project will also function as a dust suppression project. The water sources for the SCH will be brackish water pumped from the New River, runoff from the existing drainage facilities, and saline water pumped from the Salton Sea. The SCH will also serve as a reservoir, and runoff may be used to feed into potential future downstream habitat and dust suppression projects.
Through legislative authority, the state will utilize a design-build contractor for this project. The contract is slated to be awarded in summer 2020, and project construction will begin as soon as possible after that. The project is expected to be completed by the end of 2023.
The state has committed $206.5 million for construction of the project.
The State Team is focused on implementing near-term dust control projects and is developing a Dust Suppression Action Plan to prioritize and identify approximately 8,200 acres of dust suppression projects on emissive lakebed at locations around the Salton Sea.The plan proposes to implement dust suppression projects using a two-phased approach (Phases A and B). Phase A includes up to 3,800 acres of surface roughening projects identified for completion in 2020. The projects will help control dust from some of the most emissive lakebed sites and limit Sea-related impacts on air quality for communities such as Salton City, Bombay Beach and North Shore.
Phase B includes vegetation establishment on portions of Phase A project sites, where possible, and implementation of approximately 4,400 acres of additional projects in areas that require further data collection, design and planning and have more extensive environmental permitting requirements. Phase B projects will be implemented as early as possible and a concerted effort will be made to complete identified projects by the end of 2022.
In addition to public meetings held in December 2019 to inform development of the Dust Suppression Action Plan, additional meetings are planned in late February and early March 2020 to gather additional community input prior to finalizing the plan. A final plan will be released by May and will identify and describe specific projects, methods and activities, schedules and locations. The plan will serve as a "living document" that will be refined over time through monitoring and adaptative management, as well as continued engagement with the community.
The following is a preliminary list of Phase A projects being considered for implementation in 2020:
1. Bombay Beach
Phase A – 2020 – implementation of up to 200 acres of surface roughening.
2. Kane Spring
Phase A – 2020 – implementation of up to 820 acres of surface roughening.
3. San Felipe Fan
Phase A – 2020 – implementation of up to 770 acres of surface roughening.
4. Species Conservation Habitat Site
Phase A – 2020 – implementation of up to 1,800 acres of surface roughening.
5. Wister Frink
Phase A – 2020 – implementation of up to 190 acres of surface roughening.